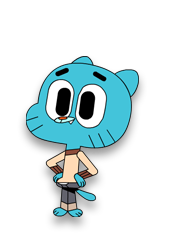 A 12-year-old male Cat
Cat

 who repeatedly does funny things but never learns his lesson. He can get cross sometimes. He has an unbearable crush on Penny, the antlered living peanut. Despite his rambunctious behavior, he can be loyal, serious and often kind-hearted. Gumball is the main character in the series.



Season 0
Season 1
The DVD

The Reponsible

The Third

The Debt

The End

The Dress

The Quest

The Spoon

The Pessure

The Painting

The Laziest

The Ghost

The Mystery

The Prank

The GI

The Kiss

The Party

The Refund

The Robot

The Picnic

The Goons

The Secret

The Sock

The Genius

The Poltergeist

The Mustaches

The Date

The Club

The Wand

The Ape

The Car

The Curse

The Microware

The Meddler

The Helmet

The Fight
Season 2
The Remote
The Knights
The Fridge
The Flower
The Banana
Ad blocker interference detected!
Wikia is a free-to-use site that makes money from advertising. We have a modified experience for viewers using ad blockers

Wikia is not accessible if you've made further modifications. Remove the custom ad blocker rule(s) and the page will load as expected.