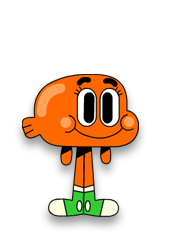 He is Gumball's adopted brother and former pet Glodfish. Eventually, Darwin began to grow legs, learn to eat Food other than fish flakes, and speak human language; he subsequently became a member of the family. Due to his sudden introduction into the world, his mindset is somewhat skewed and he tends to be more naive than other characters. Although his best friend can sometimes be a negative influence on him, he is incredibly loyal to Gumball and is really smart at times. He often helps Gumball out of any sticky situation.
Season 0
Season 1
The DVD

The Reponsible

The Third

The Debt

The End

The Dress

The Quest

The Spoon

The Pessure

The Painting

The Laziest

The Ghost

The Mystery

The Prank

The GI

The Kiss

The Party

The Refund

The Robot

The Picnic

The Goons

The Secret

The Sock

The Genius

The Poltergeist

The Mustaches

The Date

The Club

The Wand

The Ape

The Car

The Curse

The Microware

The Meddler

The Helmet

The Fight
Season 2
The Remote
The Colossus
The Knights
The Fridge
The Flower
The Banana
Ad blocker interference detected!
Wikia is a free-to-use site that makes money from advertising. We have a modified experience for viewers using ad blockers

Wikia is not accessible if you've made further modifications. Remove the custom ad blocker rule(s) and the page will load as expected.